Be Mentored Live by Veteran Surgeon, Dr. Anton Scheepers
Attend Apprentice Doctor Academy's Live Online Mentoring Session Where We Will Cover Surgical Suturing and Knot Tying!
You will learn dozens of tips that are only shared in these workshops and attendees will have the opportunity to have Dr. Anton answer all their questions.
We will cover suturing in a variety of situations, for example, a shotgun incident where the patient's jaw was blown completely off. You'll be amazed at what competent suturing can achieve when you apply the fundamental principles and add in a few tips and tricks Dr Anton gained through decades of experience.
The next workshop is on
Friday June 25, 2021

from

2pm to 5pm (EST)
Requirements:
1. A Suturing Simulation Kit.
If you do not have a good quality training kit, order below for $69 (a $10 discount) so you can participate in the workshop
[simpay id="8768″]
2. Internet connection
3. Large screen device preferable to a mobile phone screen
Important Steps:
1. Purchase an Apprentice Doctor Suture Kit or another good quality suturing practice kit.
2. Register for the workshop below.
3. Pay the workshop fee.
4. Check your email (also junk mail folders) for the Zoom meeting link.
5. Click here to create a Apprentice Doctor Academy account, if you haven't already.
6. Check your email (including junk mail folders) and click on the link to verify your account.
7. Log in from the main menu.
8. Enroll in the Suturing Course and review the theory before the workshop date
At the end of the course students will be assessed, and successful students will receive an accredited Suturing Skills Certificate which counts towards your shadowing hours.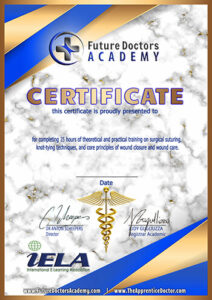 The Workshops are Very Popular and Space is Limited to Ensure Personal Attention Can Be Given, So Please Register Now…
Looking forward to it!
Dr. Anton Scheepers