An illustrated, hands-on, self-paced, online course to be used with The Apprentice Doctor® Venipuncture Training Kit which includes all the instruments and items needed.
The Kit


Click here to learn more about this kit
The Course
This is an illustrated, hands-on, self-paced, online course to be used with The Apprentice Doctor® Venipuncture Training Kit which includes all the instruments and items needed.
A basic understanding of general human (or veterinary) anatomy and physiology, especially the cardiovascular system, is required in order to understand and safely apply the techniques that the student will learn.
Every "simple" venipuncture procedure is, in essence, a minor surgical procedure governed by the basic principles of surgery:
Have a comprehensive understanding of basic medical sciences, especially anatomy and physiology of the relevant areas and systems.
Follow the basic principles of sterility and asepsis, including the use of barrier techniques.
Take a medical history and interpret this information to modify your treatment plan.
Use good lighting.
Respect life and bodily tissues.
Perform the procedure in a humane and professional manner.
Anticipate the possibility of complications and deal with them promptly and effectively.
The Apprentice Doctor® Venipuncture Phlebotomy and IV Skills Course and Kit are not intended to be used as a substitute for clinical training. Instead, The Apprentice Doctor® offers a firm foundation so students can successfully master the initial learning curve in a non-clinical setting before confidently entering the clinical situation.
Who Should Enroll In This Course?
Medical students
Pre-medical students
Paramedics and EMT students
Nursing students
Phlebotomy students
Dental students
Veterinary students
Surgery interns/registrars
Advanced first aid practitioners
Military medics
High school students interested in a career in medicine (guidance required)
Practicing healthcare professionals who would like to improve their venipuncture skills
Setting
Home-based learning
Time Allowed
Please check your subscription details in your profile to see when your course access expires.
Duration
+-60 Hours (including practical projects).
The Apprentice Doctor Academy recommends that the student not rush through the course (not more than 3 hours per day) to allow for consolidation of the information. The course could be done in less than a week with full-time study; however, it is recommended that you not rush and instead allow the information to consolidate in your mind.
From the date of enrollment, you have 12 weeks to complete the course, failing which you will need to re-enroll.
Furthermore we recommend that you briefly review the previous day's work before continuing each day. This will also consolidate the knowledge in your mind.
Requirements/Instructions
— Register with Apprentice Doctor Academy
— Enroll in Course
— Simulation Kit (optional but recommended to complete the practical projects and practice the techniques you learn)
Certified Credits
Equivalent to thirty shadowing hours
— IMPORTANT: If you are NOT a part of the Envision Experience and you wish to receive formal certification there is a $29 accreditation fee payable. This certification is valid for two years but the certificate will remain a valuable addition to any job or academic application long after.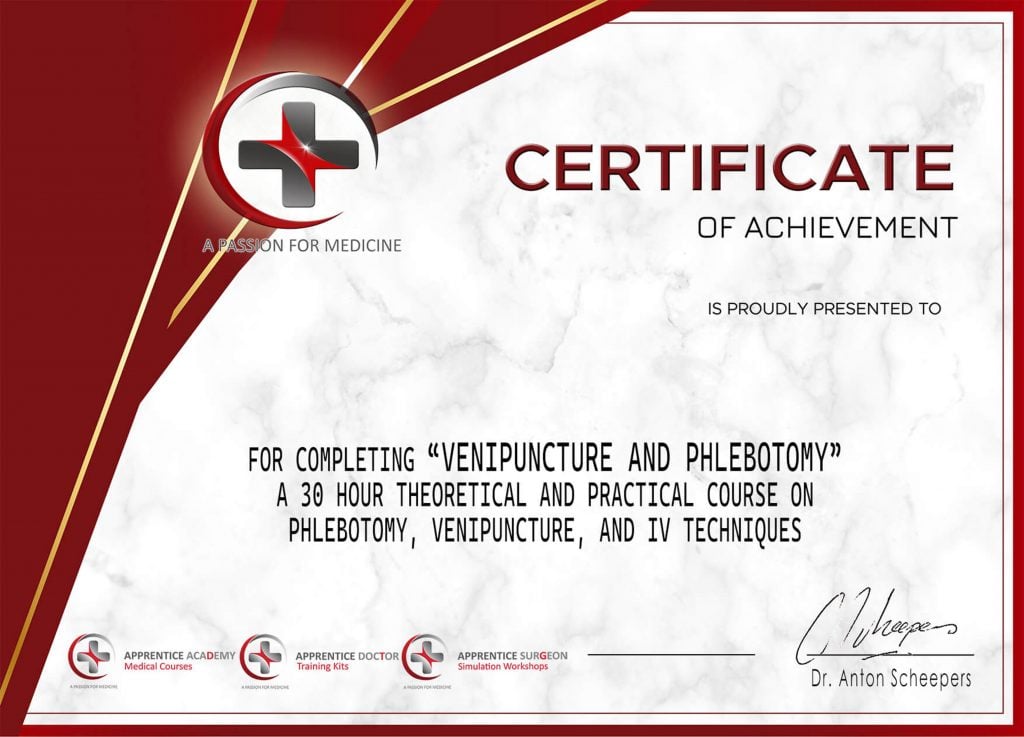 Warnings
– The Apprentice Doctor® Venipuncture Course is intended as supporting training material to supplement formally registered and accredited phlebotomy, paramedic, medical, dental, and veterinary courses. In itself, this course does not qualify one as a phlebotomist or any other type of medical professional.
– Without a formal medical qualification you may open yourself to medicolegal litigation if applying these techniques on the public.
– The surgical gloves contain latex. We do supply latex-free gloves as an alternative on request.
– The course and kit is suitable for students 16 years of age and older. Adult supervision is recommended for students below the age of 18 years.